QC Industries conveyors are the ultimate "user-friendly" conveyor. Hi-tech features like Pivot™ rotatable drives, Tension Release™ tool-less belt changes, and a moveable center drive were designed to make your job easier and give you more time to focus on things other than conveyors.
These conveyors have been designed from the ground up with performance and versatility in mind.
AUTOMATION SERIES
AS40 End Drive Belt Conveyors
End Drive Conveyors are ideal for almost any application. They offer our widest variety of drive packages, including the incredibly versatile Pivot™ rotatable drive.
AS40 End Drive Belt Conveyor ⇒

AS65 Center Drive Belt Conveyors
Center Drive conveyors are ideal for applications where both ends will be integrated with other machines. The drive package is completely below the belt and can be moved to any point on the frame to clear obstacles. Return idlers are easily removed for rapid belt changes without removing the drive.
AS65 Center Drive Belt Conveyor ⇒

AS40Z Angled Frame Conveyors
AS40Z conveyors enable elevation changes that aren't possible with a flat conveyor. these conveyors are available in three configurations for any elevating or lowering application. The L is a horizontal to inclined configuration and the R is inclined to horizontal, while the Z is horizontal to inclined to horizontal.


INDUSTRIAL SERIES
InnerDrive
By moving the drive motor inside the conveyor pulley, InnerDrive Conveyors offer significant space savings over traditional conveyor drive packages. With a profile of only 2.54", InnerDrive Conveyors can fit almost any application.

125 Series Low Profile Conveyors
The 125 Series line of conveyors from QC Industries feature a very low profile (1.89"), allowing these unique conveyors to be used in tight quarters where conventional conveyors will not fit. Belt widths of 2" to 24" are available, in lengths from 2 feet to 12 feet, with load carrying capacity of up to 450 pounds.

250 Series
The 250 Series line of conveyors from QC Industries are able to move heavy loads — up to 630 lbs. These conveyors are also available in longer lengths. They feature a unique drivethat sits fully below the conveyor belt, making the belt the highest point on the conveyor. The 250 Series conveyor is well suited to applications that call for part overhang, as the drive is no longer an obstruction.

Flextrac Plastic Chain Belt Conveyors
Flextrac Conveyors are available in lengths up to 30' and widths from 4" to 24". They offer high
speeds – up to 375 fpm – and heavy load carrying capacities – up to 500 lbs. These conveyors
offer a very low profile – a maximum 3.03" at the drive end, with the remainder of the conveyor
only 2.41" high. These sleek, quiet conveyors feature industry-standard 1" pitch belts for maximum compatibility with existing plastic chain applications.
Flextrac Plastic Chain Belt Conveyor ⇒

300 Series Indexing Conveyor
The 300 series provides precision indexing tolerance to register a part to within ±.015″ without sensors. With high speeds up to 2000 fpm with ramp up/down capacity and custom molded cleatsto integrate perfectly with your part or application.

400 Series Heavy Duty Conveyor
Heavy duty load carrying capacities of the 400 Series allows you to move heavier loads longer distances. Providing widths beyond 36″ and lengths beyond 50 ft. this low profile conveyor is only 3″ higha dn offers high speeds in excess of 400 fpm.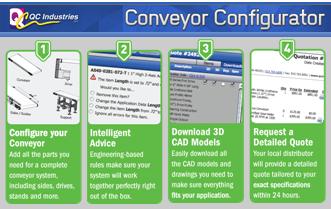 Configure a conveyor, request a quote and get 3D CAD Models with the new Conveyor Configurator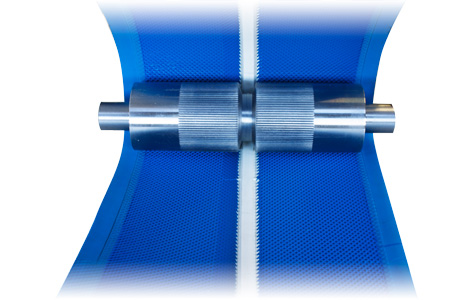 Ideal for reversing and side-exiting applications where belt tracking might otherwise be difficult to maintain. All conveyors support V-Guide belting with no additional parts.