PHD is a leading manufacturer of electric, pneumatic and hydraulic industrial automation actuators, designed to help companies across all industries optimize their manufacturing processes. Our products consist of a full line of cylinders, escapements, grippers, linear slides, rotary actuators, clamps, multi-motion actuators, switches and sensors.
Clamps
Clamps from PHD offer low cost of ownership, exceptional flexibility, and are unsurpassed in ruggedness. PHD Pneumatic Clamps and their electric variations are for use in automated sheet metal stamping in transfer presses, welding, metal forming, and assembly applications. PHD offers many styles, sizes and options of heavy duty pneumatic clamping products including 2-jaw clamps, toggle, swing, and pin clamps, as well as die lifters for sheet metal handling equipment. PHD Pneumatic Clamps are ideal for all air actuated work holding and part transfer solutions.
Clamps ⇒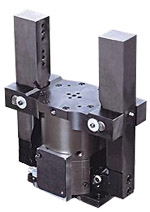 Cylinders
Pneumatic, hydraulic, and electric cylinders are offered in a wide range of styles, sizes, and options for automated manufacturing, packaging, assembly applications and more. These cylinders range from Tom Thumb® Pneumatic Cylinders, known for durability and versatility, to robust compact cylinders when space requirements are a concern. PHD also offers the industry-standard Series CV ISO Pneumatic Cylinders designed for long travel lengths and long life, as well as the Series ECV Electric Cylinders with ball screws to meet various industry requirements.
Cylinders ⇒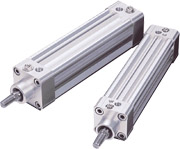 Linear Slides
PHD powered linear slides include thruster and gantry styles, and operate using air or electric power sources. PHD offers more than 12 different styles of guided linear slides designed to handle loads ranging from a few ounces up to 300 pounds. These automation devices utilize different bearing types that can provide high precision, force, and loads carrying capabilities to fit your industrial manufacturing requirements. PHD offers electric and pneumatic slides ranging from compact to gantry styles with long travels to fulfill the reach and transfer automation system applications.
Linear Slides ⇒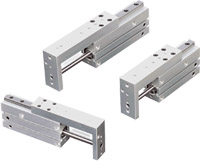 Escapements
PHD offers pneumatic escapements ideal for the release of parts from vibratory feeders, hoppers, or part magazines as part feeders. Escapements are available in single rod and double rod configurations and are designed to withstand high side loads, which are typical in such applications. Models are available with switches for easy interface with various electronic controls.
Escapements ⇒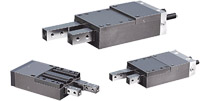 Grippers
A wide variety of PHD pneumatic grippers are available for internal and external gripping uses and have various jaw styles to adapt to any application. They range from high-precision miniature sizes to heavy-duty models capable of more than 1600 pounds of grip force. PHD offers angular grippers that open at an angle and parallel grippers that open directly apart. Pneumatic and electric grippers with a wide assortment of options and accessories. The wide variety of options provides flexibility to utilize the best end effector for pick and place, industrial assembly, and end of arm tooling for robotic automation systems.
Grippers ⇒ 

Multi-Motion Actuators
PHD multi-motion actuators provide both rotary and linear motion from one output shaft. The reach-and-turn motions are independent from one another, making it easy to sequence the two motions. Multi-motion actuators are ideal for part turnaround and orientation operations in automated manufacturing.
Multi-Motion Actuators ⇒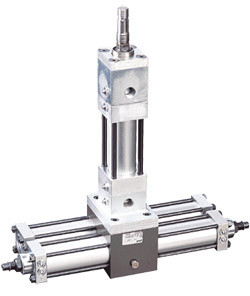 Rotary Actuators
A complete line of PHD pneumatic and hydraulic rotary actuators is offered with a wide range of options. Pneumatic and hydraulic rack-and-pinion rotary actuators are available in a variety of styles and sizes, from compact series to larger series for applications requiring up to 31,000 in/lb of torque. Many of the styles include single and double rack versions to provide additional control and force, and can also be ordered with many accessories to meet automated industrial manufacturing requirements.
Rotary Actuators ⇒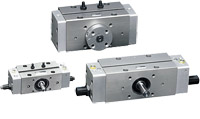 Switches & Sensors
PHD offers a wide variety of proximity switches and sensors to create an easy interface between the different controllers, logic systems, and PHD actuators utilized in automation and industrial manufacturing. There are many choices of reed, hall-effect, and other solid state switches that provide feedback for the many styles of pneumatic and electric cylinders, grippers, rotary actuators, and slides.
Switches & Sensors ⇒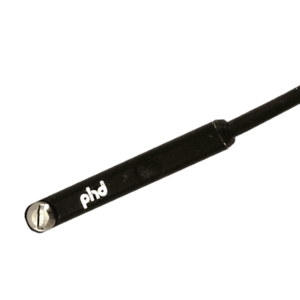 Blow Molding Equipment
PHD offers a range of blow molding equipment for the manufacturing of bottles and other plastic containers. These products are spare component solutions for 'S' style and 'K' style and other stretch blow molding machines. Standard Series BCS Stretching Cylinders are designed as spare components on model SBO ISMB Series1 and Series2 blow molding machines to provide long service life and reduce maintenance and downtime. Other specialized blow molding equipment include nozzle cylinders, needle cylinders, eject slides, transfer arms, and much more.
Blow Molding Equipment ⇒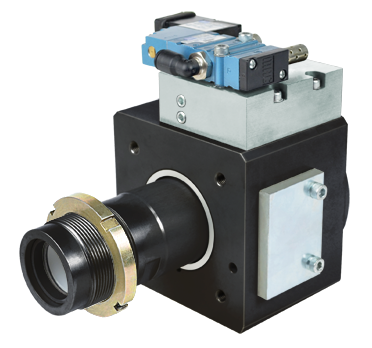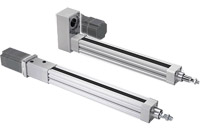 New Series ECV Electric Cylinder with the "Your Motor, Your Way" feature provides an ECV electric actuatorsopen architecture design allowing users to specify the motor and controls of their choice. Key features include choice of inline or foldback motor mounting.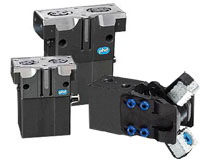 Looking for a clamp that is extremely cost competitive, light weight, compact in size, and deliverable when YOU want it? Then you've come to the right place. The Series GRM1 Miniature Clamp boasts 225 lb of total clamp force, weighs less than 1 pound, and can be shipped within 24 hrs. ARO.