Pro-face is a leading global supplier of a broad range of industrial automation hardware and software solutions. Our principal products include the Pro-face brand operator interfaces, HMI software, and industrial computers. Pro-face offers dedicated and PC-based, open-architecture, visualization and control solutions.
Operator Interfaces
Pro-face is the best-of-the-best when it comes to operator interfaces. They set the standards for HMI solutions by offering the industry's most extensive product offerings with the absolute highest level of connectivity and support worldwide. Pro-face offers low cost HMI Data Management solutions giving you everything you need with to get data from the factory floor to anywhere throughout your enterprise.
GP4000 Series
Full Graphics, Touch Screen Operator Interfaces
Easy to Use: Operators can easily monitor conditions and the operating in environment in real time.
AGP4100 Series
Compact, Full Graphics, Touch Screen Operator Interfaces
Easy 2 clip mounting, ultra compact to save panel space.
AGP3000 Series
Standard – Multimedia – HMI + Control and Mobile Hand Held Operator Interfaces
Best-in-Class Hardware and Software – Over 50 models to choose from!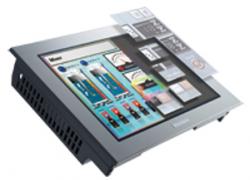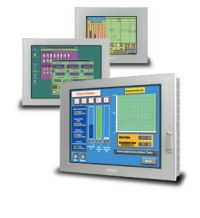 Flat Panel Monitors
Pro-face and Xycom brand Flat Panel Monitors offer a wide range of display sizes, from 10.4″ to 19″ TFT color with enhanced resolution. They are all extensively certified and with Pro-face Investment Protection, you can minimize product migration costs by maintaining hardware cutout compatibility as new models join this family of products.
FP3000 Series
Strong Graphics – Extensive Connectivity – Smart Design
Enhanced Visibility Analog resistive touch screen with clear screen images for minimal errors.
Multiple Screen Sizes: Screen sizes from 10.4″-19″ for multiple area specifications.
DVI Compatible: DVI cable available for broader connectivity.
Industrial PCs
Pro-face America offers a line of Basic, Standard and High-Performance industrial PC products with integrated touch screens to match your budget and application environment.
Pro-face Basic and Standard PCs are designed for controlled environments and are a cost effective solution when you match the right PC to the right application.
These High-Performance PCs are designed to withstand the rugged requirements of high temperature, shock and vibration environments typically found on an industrial automation floor. Certifications include CE, cUL, UL, Class 1 Div 2 hazardous ratings. Most importantly, High-Performance PCs offer the longest product availability minimizing product changeover and upgrades.
PS4000 Industrial PC Family – Extensive Connectivity and Core Duo Options
Dependable and energy efficient disk-less operation, perfect for hazardous environments.
PS 3001 with NEW Built-in System Health Monitoring
Remote Health Monitoring (RAS): Provides early warning of component failure to reduce accidental un-controlled costly system shutdowns and Advanced Data Protection.
APL3000 Series High Performance Series
The Pro-face brand APL3000 Series offer high performance Intel processors including Core Duo CPUs to meet or exceed the needs of today's demanding factory floor applications.
Advanced Data Protection: Data protection options are available for mission critical applications:
RAID hard drive configurations
Solid State (CompactFlash) drive
High speed network ports for remote data collection
Xycom brand Industrial PCs
Heavy-Duty Hazardous Certified UL Class 1 Div 2 PCs
High Shock and Vibration: Designed for use in high temperature, shock and vibrations environments.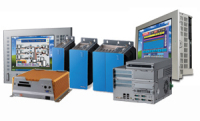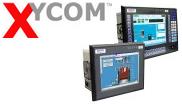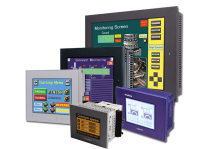 Operator Interface Plus Control
Pro-face operator interface plus control products combine built-in PLC functionality with an operator interface. It is an all-in-one hardware and software HMI Control Solution. Lowering overall system costs and panel space. The extensive connectivity of the Pro-face control products allows you to pick and choose third party vendors and minimize application costs. The breadth of product allows you to upgrade, update, and migrate as your needs change.
LT3000 Cost Effective Machine Controls
Standalone HMI Control: The LT3000 family offers you built-in and expansion I/O to replace the PLC, operator interface functions, and powerful data collection options.
Built-in and Expandable I/O:The LT3000 family includes high speed counters plus expandable I/O, including CANopen devices, to adapt to your machine's changing needs.
Operator Interface Plus Control ⇒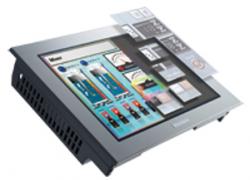 Introducing the Modular HMI!
– TFT Color Display
– Innovative 22m mounting
– Modular Screen Replacement
– World Class Connectivity
– Serial & Ethernet Connectivity