Camozzi Spa aim to be a leading company in the engineering, production and distribution of pneumatic components, providing solutions to customers, with the highest competence and the most advanced technology.
We wish to position ourselves as an innovation and engineering-driven company, producing high value solutions through high quality components.
Fittings-NPTF
Mitsubishi Electric Automation, Inc., is part of a $40 billion global company serving a wide variety of industrial markets with a family of automation products including programmable logic controllers, variable frequency drives, operator interfaces, motion control systems and servo amplifiers and motors.
Flow Control Valves – NPTF
The Meter In, Meter Out, Needle Orifice flow controllers, series TMCU, TMVU, TMCO have been designed to offer a solution with reduced overall dimensions in combination with higher flow rate characteristics.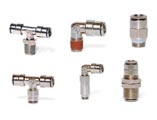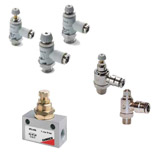 NFPA The series 70 cylinders
Bore ø : 1 1/2" , 2 " , 2 1/2" , 3 1/4" , 4 " , 5 "
Rod ø : 5/8" , 1 " , 1 3/4"
Stainless steel piston rod
Removable rod bushing
Low break away force
No exposed Tie – Rodnuts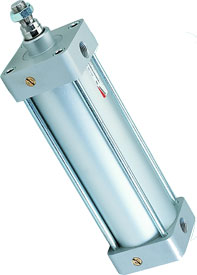 Series 16, 24, 25
Single and double-acting (CETOP RP52-P DIN/ISO 6432 Standard)
Series 16: bore 8 – 10 – 12
Series 24: bore 16 – 20 – 25 magnetic
Series 25: bore 16 – 20 – 25 magnetic cushioned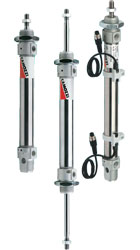 Series 60/61
Single and double–acting (magnetic) (DIN/ISO 6431)
Bore: ø 32, 40, 50, 63, 80, 100,125 cushioned
[1 1/4", 1 9/16", 2", 2 1/2",
3 1/8", 4", 5" inch approximations]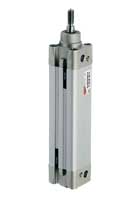 Rodless Cylinder
The Series 50 rodless cylinders are available in 7 different diameters to cover as many applications as possible. A permanent magnet is assembled on the cylinder piston, allowing the position to be detected by means of proximity switches positioned on the sliding axis. This series of cylinder is normally supplied with end-stroke cushioning, that can be regulated by means of a screw located on the end-cover. The Series 50 cylinders are recommended to be used according to the load values and torque forces detailed in the relative tables.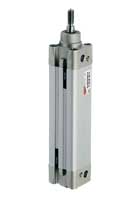 Filter-Regulators-Lubricators
Series M-T-N
The Series "M-T-N" are available with 1/8″ and 1/4″ NPTF ports. Its design incorporates a relieving diaphragm. Microregulators are available with optional regulation types: non-relieving, very sensitive self-relieving (through a light air leak) and VS (valve with fast draining). These components, which have very small dimensions, may be mounted directly on pipes or on a console.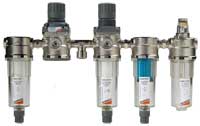 Modular Series MC
The MC series is a complete modular design with the following options
Filters, Coalescing Filters
Pressure Regulators
Manifold Pressure Regulators
Manifold Regulators Assembly Hardware Kits
Lubricator
Filter/Regulator
Lockable Isolation 3/2-Way Valve
Electropneumatic/Pneumatic Isolation Valve
Soft Start Valve
Take-Off Blocks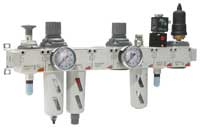 Modular Series MX
Series MX3 is the latest air treatment system offered by Camozzi. This modular design is characterized by a modern, compact design, and high performance
Ports 3/4″ – 1″ NPTF
Filters, Coalescing Filters
Pressure Regulators
Activated Carbon Filters
Lubricator
Filter/Regulator
Lockable Isolation 3/2-Way Valve
Soft Start Valve
Take-Off Blocks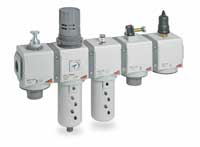 Manual & Mechanical Valves
Manual valves
Manually Operated Console Minivalves
Mini-handle valve
Series 1 and 3:1/8″ Ported Manually Operated Valves
Series 1 and 4: 1/4″ Ported Manually Operated Valves
Foot Pedal-Pneumatic-Electrical-Series 2
Series VMS Slide Valve
Series 2930, 2930N, 2940, 2960 Ball Valves – Full Flow Design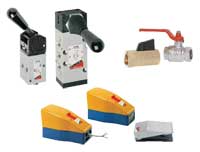 Mechanical valves
Series 2 Mechanically Operated Minivalves
Series 1 and 3 Mechanically Operated Valves
Series 3 1/8" Ported Mechanically Operated Sensor Valves (Whisker Valve)
Series 4 1/8″ & 1/4″ Mechanically Operated Sensor Valves